Barefoot every day…
…To run through soft fresh grass or cool morning sand beach remains only a dream for most of us. Out feet are continuously overloaded. Unfortunately, we need them during the whole day, therefore we should treat them properly.
By professional treatment with top-quality products we will help you to achieve that your feet will look not only great, but also healthy.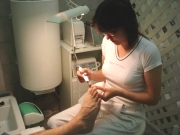 Pedicure
Paraffin pack
Feet massage
Home feet care
Pedicure
Feet care is demanding and it is obvious that you will not manage without professional help. The best way is to visit a pedicure salon and to have your feet treated in a professional way. The pedicurist will treat the feet skin after a bath, remove eventual problems on the skin (helomas, tylomas, hard skin on heels, etc.); she will treat the skin and model your nails similarly to manicure including enameling, or even decorating.
Feet paraffin pack
Various packs can be applied to feet. The most popular one is the paraffin pack. After ordinary pedicure, special peeling is applied to feet that removes hard skin and smoothes out the feet skin. Afterwards, a mask is applied to feet that gives the feet necessary moisture and nutrition. The paraffin is applied onto the mask. The paraffin heat ensures more effective absorption of nutritive substances. After the procedure, your feet will be soft and smooth.
Feet massage
You can enjoy nice relaxing massage thanks to essences contained in the massage oil. Herbal extracts and oils add necessary nutrition to the skin.
Home care
Home feet care is also important. This is in particular care for the feet skin. The basic products you should keep at home are: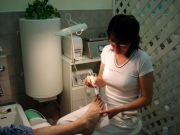 Nail file
Pumice, nail file
Feet spray, refreshing preparations
Feet nutrition
Feet peeling
Nail file
Any file for natural nails can be used for toenails. As toenails are usually stronger, rougher file can be used. Also a polishing file is suitable for toenails care if you want shiny toenails without enameling them.
SQ Academy offers the following files for toenail care: White Coarse, Black Coarse.
Pumice, nail file
For feet care, also pumice is important to remove hard skin from heels and other parts of feet. You must be very careful while working with pumice so as not to hurt the skin. SG offers special pumice, a multi-function file with practical handle and two types of roughness, in elegant silver design.
Pricelist of offered services
Pedicure - basic (without nail polishing)
290,00 Kč
Pedicure - complete
630,00 Kč
basic pedicure, peeling, mask, massage
Parafine
175,00 Kč
Polishing - one coat of nail polish
25,00 Kč
French polishing
110,00 Kč
Massage (right to knees)
80,00 Kč